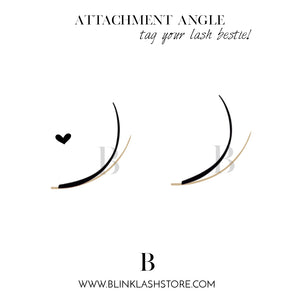 If you don't use the correct angle when attaching lash extensions you will run into two problems; split bases or not enough of an attachment, as seen above.  These two issues cause poor retention and attachments that are very weak.  The lash extension will likely fall off after combing the lashes with a mascara wand a couple of times.  If this is something you struggle with here are some tips:-Make sure the extension is parallel to the natural lash before making the attachment.  Think of it like the natural lash is the "big spoon" and the extension is the "little spoon"...
---
Welcome back to Lash Map Monday!  Today we are talking about the layered kitten lash map.  Have you ever done a cat eye lash map on your client and noticed that the outer corners are droopy?  This happens because the only natural eye shape that can handle a true cat eye is the upturned eye shape.  If you use your longest lash extension length on the outer corners it draws the eyes down, which will create balance with an upturned eye, but it will make any other eye shape appear droopy or downturned.  So what can you do for your...
---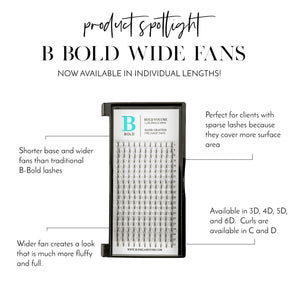 Welcome back to our weekly product spotlight!  Every Thursday we take an in depth look at one of our products PLUS we have a discount code so you can try it at a great price!  This week's product spotlight is our BBold Wide Fans.   We have has so many requests to get these in individual lengths and we are excited to announce that they are now available!  If you have been looking for the perfect pre-made volume fans, look no further!  These B Bold Wide fans have a much shorter base than our traditional Pre-made Volume fans, which offers a much...
---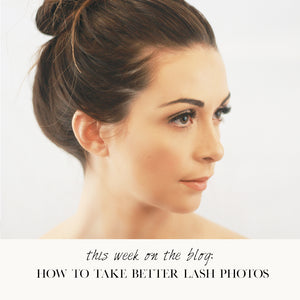 Let's face it, one of the best things you can do for your business in order to help it grow is to have a presence on Instagram.  That can be super intimidating if you are a novice in the photography department.  Well, that is what this post is all about!  We are here to help you with a few tips and tricks to improve your photography!  With a little practice, help from the right accessories and pro tips, you will be building a beautiful Instagram feed in no time!   Lenses and accessories:  There are so many different lenses and...
---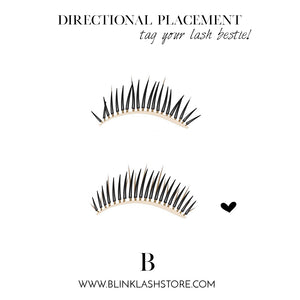 Welcome back to Lash Tip Tuesday!  Today we are talking about 90 degree placement.  If you look at the top picture you can see that the lashes have been placed to lay where the natural lash is growing, rather than a 90 degree placement.  As you can see the bottom picture is SO MUCH CLEANER.  Why is 90 degree placement important?-  When lashes are adhered in the correct direction, the final result will be much more clean and uniform.  -retention will improve because your clients wont be tempted to pick at that "one lash" that isn't going the the right direction.-Extensions...