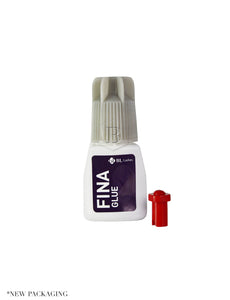 Fina Glue
Regular price
$ 23.99
$ 23.99
BL FINA GLUE is the newest and most innovative adhesive from Blink Lash Care. With its rapid setting time that is even faster than all of the ULTRA adhesives, this glue is meant for only the most advanced and experienced technicians.  FINA's consistency is extremely smooth and fluid resulting in a flawless lash extension application.  Something that makes this adhesive unique is its low/medium level of fumes.  Typically when the stronger the bond of the glue, the more intense the fumes, but FINA strikes a perfect balance between attachment strength and fume level.  It also has a newly designed bottle for easier dispersement and protection against the lid sticking shut.  The adhesive bonding strength is amazing! With proper application, the bonding strength will last the whole life cycle of the natural lash. Formaldehyde Free.
Quick Setting Tech Level: Advanced
Color: Black
Setting Time: 1+ Second
Estimated Durability:  5-6 Weeks
Fumes/Irritabilities:  Med/Low
Consistency: Liquid/Watery/Thin
Shelf Life (Opened): 2 Months (Store In Cool/Dry Area) 
Shelf Life (Unopened): 3 Months (Store In Cool/Dry Area) 
5g Size
Formaldehyde Free.
 This glue is NOT for self applications, it must be used by a licensed professional only.
---