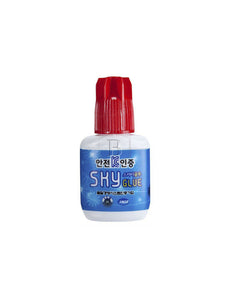 Sky Glue (S+ type)
Regular price
$ 17.99
Sale price
$ 42.99
Sky Glue Type S+ is the perfect adhesive if you are looking for superior retention.  S+ Type Sky Glue is modeled after the best selling S glue and has the greatest rate of retention of all of the Sky glues.  Sky adhesives are made with the highest quality, medical approved ingredients, and are one of the most popular adhesive brands world wide!  Sky glue is the perfect addition to your favorite lash products.  
Strong and quick drying
Made from the highest quality, ISO medical approved ingredients
Authentic Korean Certified adhesive

Drying Time: 1-2 seconds (great for advanced lash artists)

Retention: Up to 6-7 weeks

Recommended humidity: 50-70%

Recommended room temperature:  77-82 degrees 

fahrenheit

Color: Black


Information
- For professional use only.
- Keep out of reach of children.
- Contact directly to skin or eye can sometimes cause minor irritations. In any cases of an allergy please consult physician.
- Keep the container tightly closed when not in use. Do not store under direct sunlight and keep in a cool place.
- Unopened bottles can be stored up to 6 months. Shelf life is 5-7 weeks since the bottle has been opened.
Ingredients:
Ethyl Cyanoacrylate, PMMA, Hydroquinone, Black pigments
---